How You Can Lower Your Bounce Rate
A low bounce rate is a sign that people who land on your website pages are interested in your content thus not leaving immediately. In general a low bounce rate is a sign of good health of your website and becomes particularly crucial when running lead generation campaigns.
In this post we'll discuss what exactly bounce rate is and how to keep it low.
What is a Bounce Rate?
Google refers to a "bounce" as "a single-page session on your site".
Bounce rate denotes the number of visitors leaving your website (or "bounce" back to the referral site or search link) after having viewed just a single page on your website.
A user can bounce back even after staying on your site page for more than half an hour.
So, what exactly does a bounce rate stand for, and what are its negative implications?
Now, "high bounce rate" can mean different things for different site owners, depending on your website type and organizational objectives.
In fact, low or extremely low bounce rates can be problematic as well.
As per a RocketFuel study, websites in general witness a bounce rate that is somewhere between 26% – 70%.
Check out the bounce rate grading system based on the data collected by the study:
25% or lower: Chances that something is broken
26-40%: Outstanding
41-55%: Standard
56%-70%: More than usual, but will largely depend on the website type
70% or higher: Awful and chances that something is broken
You can check out the Audience Overview tab of Google Analytics to view your site's entire bounce rate.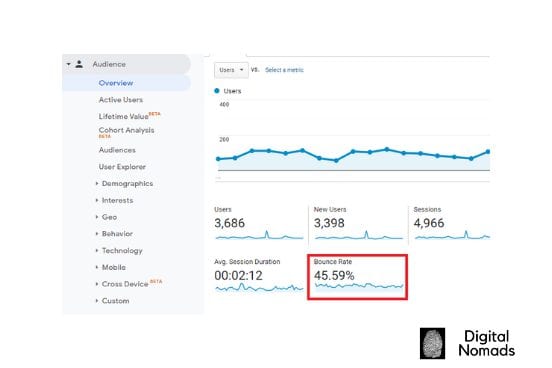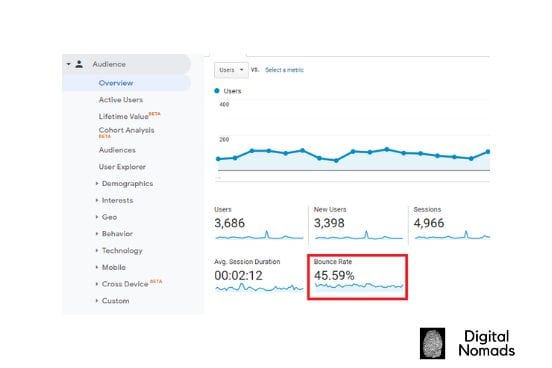 You can go to the acquisition overview report in Google Analytics to check out the bounce rate of your individual channels and pages. To check the detail of the single pages bounce rate per channel you will have to click on the specific channel.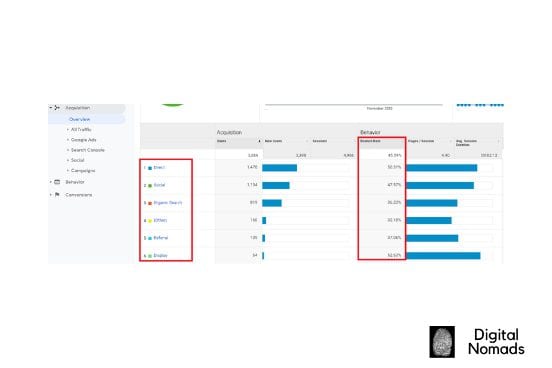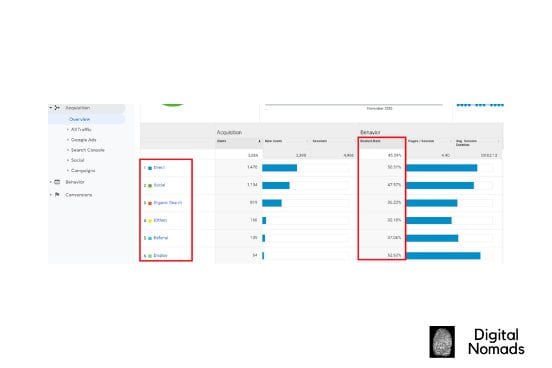 Don't Panic
A high bounce rate is not a dead end.
Even the most attractive and efficiently designed web pages are likely to have a bounce rate that is high.
Bounce rates can work as a yardstick to assess how efficiently your website is functioning, but without proper handling, they can turn out to be a vain practice.
It's important that you avoid presenting bounce rates without the context in which they are being used.
At times, you wish to have a high bounce rate for a channel. Let's think for example about a misplaced hyperlink on a website unrelated to your business.
You must also not struggle to "fix" bounce rates that don't pose a threat by affecting the user speed on the page or stop them from leaving your site.
This will eventually annoy the users and dissuade them from coming back to your site.
No matter if externally the bounce rate appears to have decreased, it is likely to have more serious after effects than a simple bounce.
5 Pro Tips for Reducing Your Bounce Rate
Irrespective of why your site has a high bounce rate, here are some effective ways to lower it down.
Make Sure Your Content Lives Up to the Expectations
The title tag and meta description showing up on Google plays a critical role in building the image of your website in the virtual world.
Your content needs to be at par with your ads in the SERPs.
Restrict from labeling your page to be an ultimate guide, if all it consists is a concise blog featuring three pointers.
Avoid using terms like "best" and "top-rated" in case your user rating is 3 or below.
Making your content readable should be a priority:
Include enough white space in your text.
Insert appropriate images.
Keep your sentences crisp and short.
Use spellcheck.
Pick a nice and minimalistic design.
Avoid flooding with excessive ads.
Keep Essential Elements Above the Fold
At times, your content is in sync with what you show in your title tag and meta description, which a user is unlikely to figure out immediately.
As soon as a user lands on a site, there is an instant impression.
This first impression must be true to what the user had imagined to view once they were here.
A top H1 must coincide with the title the user had read on Google.
In case of an ecommerce site, you must insert an image that justifies the product description.
Leave a mark with your first impression.
See to it that banners don't take away attention from your content.
Check that the users get what they are looking for as soon as the page loads.
Increase The Speed Of Your Site
In SEO, a fast speed is much effective.
Speeding up your site must always be your top priority in SEO.
You'll always come across with innovative ways to compress, optimize or accelerate load time.
Use AMP .
Make sure to compress your images before loading on site, keeping a check on using maximum size when not needed.
Assess and eliminate all heavy load and unwanted plugins, style sheets or scripts, sticking only to faster options.
Keep your basics straight, using CDN, setting up browser caching and minifying CSS and JavaScript.
Look up Lighthouse for further help.
If you have a WordPress site you can have a look at this Ahrefs list on how to increase the speed of your site with more specific and tested changes.
Reduce Non-Essential Elements
Never flood the user's attention with pop-up ads or content they didn't sign up for.
Overwhelming visuals can trigger bounce.
What call-to-action is critical to your page?
Impressively highlight that.
Keep other things to the sidebar or footer.
Editing is your savior.
Help People To Find Faster The Content They Are Looking For
Looking to persuade visitors to fully browse your site?
The easier to browse, the better it is for you.
Optimize on-site search using predictive tools, useful filters as well as a "no results found" page.
Redesign your navigation menu. Take A/B test to figure out the impact of complex and simple menus on your bounce rates.
Insert a table of contents in your lengthy posts, using anchor links to make it easy for readers.
Conclusion
As a leading digital marketing agency in Hong Kong we help our clients in figuring out what causes high bounce rates on their site, taking the right steps to avoid it. If you need help finding out what's making your bounce rate so high and what's stopping you from getting more conversions and leads, let's have a chat.