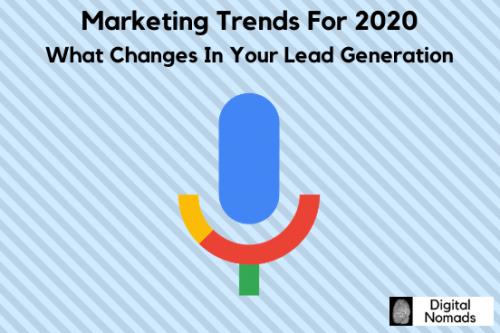 MARKETING TRENDS IN 2020
 EVERYTHING YOU NEED TO KNOW ABOUT LEAD GENERATION IN THE COMING YEAR
As 2019 is coming to an end, it is high time that you check upon the upcoming marketing trends that are most likely to stay in 2020. Every New Year brings with it a new marketing trend that happens to influence the marketing strategy of the biggest brands and small businesses alike.
Not many marketing blogs, podcasts or marketing related YouTube channels will tell you what's coming up new in 2020, except for the fact that voice search is here to stay – a fact that you must be already aware of!
But, apart from voice search, there are a whole lot of exciting marketing trends that will change the face of marketing in 2020. So, if you are looking forward to explore a new world of marketing possibilities for your business in 2020, then check out these following trends:
Trend #1: Google Analytics Will No Longer Ensure Competitive Advantage for Your Business
There is no doubt about the fact that Google Analytics is one of the most widely used tools for lead generation. But, despite the popularity of Google Analytics as one of the most effective tools to drive traffic, it is likely to get marginalized by a number of upcoming marketing channels (like, voice search) in the coming year.
Here, you need to understand that business is no longer just about a transaction between the buyer and seller. There are a lot of new concepts that have entered the world of business, like; up selling, down selling or repeat sales etc.
Apart from this, you can choose multiple strategies to generate leads for your online business, be it; affiliate marketing or webinars. Perhaps, this is the reason why a lot of businesses are now looking forward to go for innovative analytics strategies that integrate into their company's database more efficiently.
If you are looking forward to increase lead generation for your business, both for the short term and long term, then you ought to have a centralized database that allows you to make the right decisions to promote your business growth.
Therefore, it is quite likely that the year 2020 will witness a growth in both free as well as paid business intelligence solutions for marketing, just like Google Data Studio. What makes Google Data Studio more effective in comparison to Google Analytics is the fact that it allows you to transfer more granular data from your Facebook ad campaigns, which is not that easy to carry out with the latter.
Trend #2: Businesses Will Use Voice Search, But Not Capitalize It for Revenue –
It's quite a well known fact that as far as the upcoming marketing trends are concerned voice search is here to stay. As per ComScore, over 50% of the searches in 2020 will be from voice search. But, as far as digital marketing is concerned, voice search is not something that is a new phenomenon. It has been there for quite a few years now, and it is now that a lot of marketers are catching on this trend.
But, despite the fact that voice search is being used by a lot of brands to stay updated with the emerging marketing trends, it is somehow not optimized to actually convert into sales. The reason for this is a lack of solutions that are specially created to capitalize on your voice search lead generation.
Still there are exceptions like Jetson.ai, that offer solutions to make sure that your voice search is optimized to generate revenue as well. What makes Jetson.ai really impressive is the fact that it works with major devices used for voice search, be it, Google Home or Alexa.
So, if you are looking forward to integrate voice search in your marketing strategy in 2020, then you must also make it a point to use Jetson.ai to capitalize your voice search. Another great thing about Jetson.ai is its ability to offer customized solutions, as per the individual needs of every user. For instance, if you frequently order a product from the same store through voice search, then Jetson.ai will make sure that you can order the same thing as many times you want without any difficulty.
Trend # 3: You'll Have To Opt For Advanced Communication Platforms Due To A Decline In Conversions From Your Email List –
For the longest time, Email lists have been an intrinsic part of digital marketing in both the corporate and ecommerce sector. But, in the past few years, there has been a drop in the average click rates of most companies. So, does it mean that email marketing will no longer serve a purpose in 2020?
Not at all! Email marketing is here to stay in 2020 as well, but all you need to do to make the most of it is to leverage newer and advanced communication channels as well. For instance, you'll witness a great growth in Chatbots, not just the Intercom's ones, but more like MobileMonkey. Right now MobileMonkey leverages Facebook Messenger, and as soon as it covers WhatsApp and Instagram as well, it will reach out to even a wider audience.
Apart from Chatbots, you will also see a rise in leveraging tools like Subscribers that allow push notifications. So, the sooner you start to leverage Chatbots and push notifications in your marketing, the better lead generation you will get for your business.
Trend #4: Automation Will Be a Necessity for Lead Generation –
In 2020, you will have to do more than just optimize your content for SEO or run paid ads to generate leads. In the past few years, digital marketing has become more leveled, which calls for the need of software solutions that integrate automation and help make better informed decisions for your business.
From Clickflow, RankScience to Distilled ODN; there are a number of software solutions that integrate AI to help with your marketing strategies. In the same lines, BrightEdge can even automate your SEO, and help increase page views to your site by as much as 60%. Not just this, their automated SEO solutions can also make it possible for you to have 21% more keywords on your first page.
On the whole, more such software solutions are expected to emerge in 2020 that will allow you to leverage AI and automation for marketing purposes.
Trend #5: Look Out For "Marginal Gains" In Your Marketing Channels –
If you are looking forward to win your marketing game in 2020, then you'll have to grow beyond using just one marketing platform for your business. The reason behind this is the fact that successful marketing channels are quite likely to get exhausted really fast, in turn, failing to deliver you the much needed lead generation for your business.
Even if you are able to get results by sticking to just one marketing channel, your growth will be just short term; as the more competitors will join the same platform, the harder will it be for you to get enough leads.
2020 will be all about marginal gains, which mean that you will have to work on improving specific areas of your marketing. From using Google Data Studio, to improving your paid ads; there is a lot you'll have to work on to win your marketing game in 2020.
Trend #6: Personalized & Customized Marketing –
One of the common issues that affect marketers all over the world is the inability to convert visitors into clients. But does it happen because your lead generation process is inefficient? Or does it happen because your visitors are not qualified to buy your services? Let's find out!
One of the biggest reasons that stop your visitors from converting into your customers is the fact that your brand message doesn't speak to each of them. So, this is why, if you want to improve your marketing game in 2020, then you must use personalization to get more conversions.
When it comes to a personalized marketing strategy; Amazon aces the game. So, for instance, when you log in to Amazon, you will only see the type of products that you buy quite often. Similarly, you must also strive to create a marketing strategy that is personalized and customized to suit the preferences and needs of each of your customers.
Conclusion –
It is quite likely that many of the marketing solutions and strategies mentioned in this article are not that popular or a lot spoken off now. But, as a matter of fact, these are the solutions and strategies that are going to rule the marketing scene in the coming year.
Therefore, any brand or business that is committed to take its marketing game to the next level in 2020 must strive to implement all these strategies for sure. In order to have a strong hold at your marketing, you must follow these upcoming trends and witness a real time improvement in your lead generation process.
By following these marketing trends, you will not only get to improve your lead generation process, but also get an advantage over your industry competitors. Irrespective of your business size and experience, these marketing trends can help grow your business like never before and make it big in your industry niche.
So, wait no longer, and implement these marketing trends to boost your lead generation and be the business of the future. Get in touch to know more about the marketing trends discussed in the article and find out how to implement them successfully for your large, medium or small scale business.