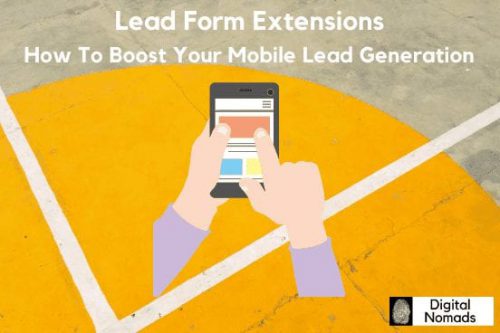 Google Lead Form Extensions 
There is no doubt about the fact that advertising on mobile comes with its own set of limitations. Firstly, mobiles have small screens. Secondly, a slow connection over it is enough to divert the attention of your customers. Factors like these play a huge role in dampening the rate of your conversions, especially in comparison to desktop conversion rates and influence the outcome of your lead generation campaigns.
Now there are a number of ways to increase your mobile conversion rate. But, still, when it comes to filling out a mobile site form, you are quite likely to experience some difficulties. Earlier, Google did come up with innovative ways for users to convert even without the need to visit a mobile site. As per these solutions including call extensions and call-only ads, users were permitted to call a business in a direct way. 
Recently, Google has come up with a new ad extension i.e. Lead Form Ad Extensions which is exclusively designed to make conversions super easy for mobile users. With this new ad extension, mobile users will be allowed to convert and present their contact details without the need to leave the SERP even once. 
We have already written about the extensions available for your Google Ads. They are absolutely important for the improvement of your quality score and conversion rate. It's considered best practice to integrate them in your campaign if you want to get the best results. 
What are Google Lead Form Extensions? 
Google lead form extensions appear below your search ad on mobile as well as ipads or tablets. A lead form extension makes it easy for users to present their contact details instantly through the ad on the SERP. As a result, there is no need for users to go to your mobile site for conversion. This is possible if the user is already signed into their Google account. In this case, only one click is required at the end of the user to convert, as they will be instantly directed to a Google-hosted form that already contains their contact information.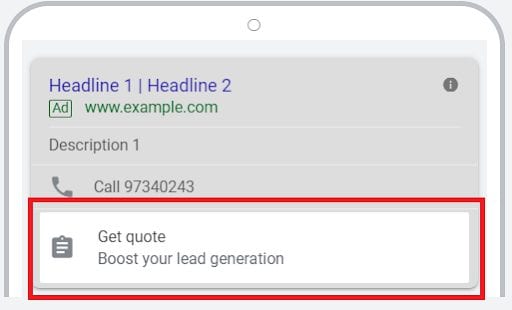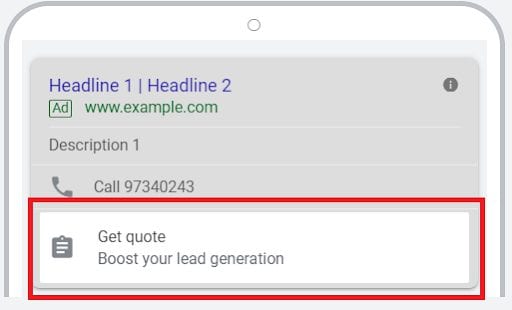 What makes Google's latest lead form extensions stand apart is the fact that it not just helps you with quick and easy conversions, but also help making your search ads bigger and more relevant. 
Like all ad extensions you are only required to pay, whenever a mobile user actually clicks on your lead form extension. To add to it, a lead form extension does not come with the assurance to show at all times. In fact, there are huge chances that it only shows when the quality score of the ad is high and this appears on the top positions of the SERP.
How do you create Google Lead Form Extensions?
The entire process of creating lead form extensions is quite easy and uncomplicated. The first step requires you to drop in a search campaign using Google Ads. After this, go to the "Ads and Extensions" tab that is located on the handrail at the left. The next step requires you to click on the "Extensions' tab that you can find on the top most bar. Now, if this beta is accessible by your account, then you will need to click on the blue "+". Once you click on it, you will see this dropdown on your screen, along with a "Lead form extension" offer: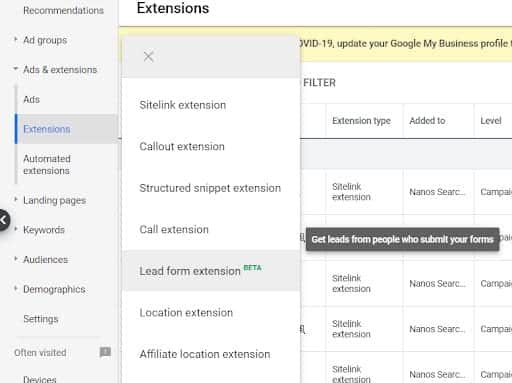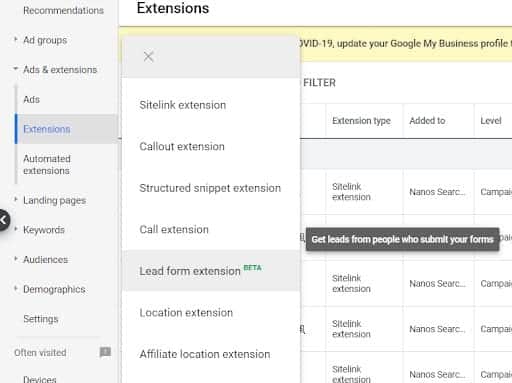 After this, you'll need to proceed with certain steps in order to create the ad. 
Create your lead form extension
Firstly, you'll need to figure out a design for your lead form extension. This will include choosing a call to action as well as a quick to read message that will show with your lead form extension.
Call to action: You will have to choose one call to action for your lead form extension out of the total 8 calls to action that will be presented to you as an option. These include:
Extension text: This will be a 30 characters message that will feature beneath your call to action on the SERP. It must be a convincing offer to make your call to action more impressive. 
Create your lead form 
The next step requires you to create a lead form that will be shown to users once they click on your form extension. Here, you can select the details you wish to collect from users.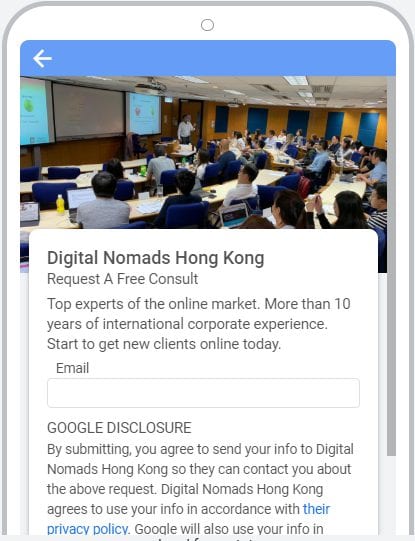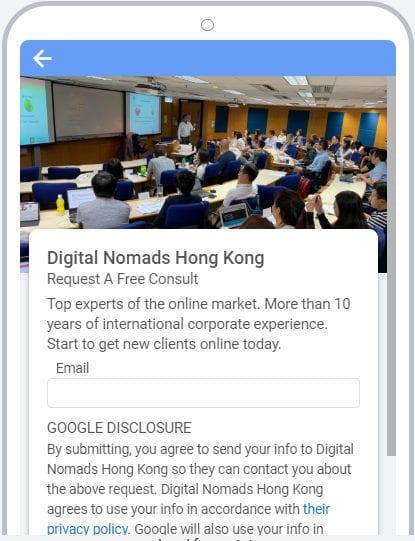 Business name:

It should be of 30 characters and will appear at the top of the form.

Headline:

You will need a 30 characters long headline (main call to action) that will appear beneath your business name.

Description:

A 200 characters long description will make up the main body of your form. It must include a detailed and valuable introduction to your offer for users. 
Other than this, you'll require to share a link of  your organization's privacy policy so as to prove compliance with the terms of Google. You can also insert a background image on the form, with a recommended aspect ratio of 1.91:1. 
Create your form submission message 
This will be the message that users will see once they provide their contact details.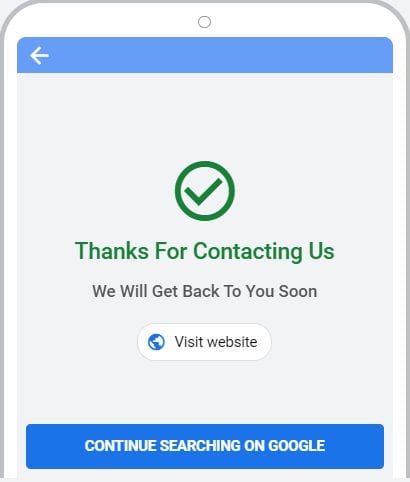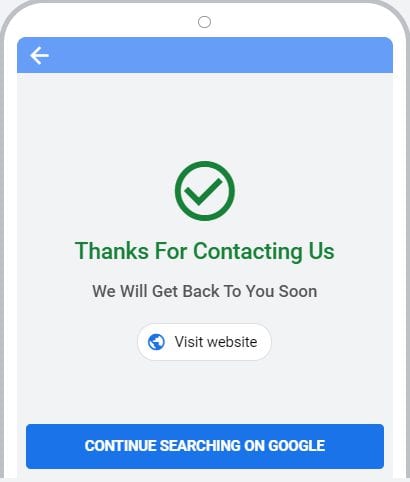 Description:

It will be 200 characters content, where you will address the new users and let them know what to expect from you in the future.

 
Call to action:

You can also add an optional CTA in the form of a link.
Lead Delivery Options 
You have two options to choose when it comes to following up your new leads:
Download your leads as a CSV:

In Google Ads, you'll find a blue link to "download leads". This link will appear below your lead form extension. You can use this link to download the contact details of users. 


Set up web hook integration for Google lead form extension:

You can also set up a web hook URL and key to receive your new leads instantly into a CRM. 
Some important limitations of Google Lead Form Extensions 
There is hardly any doubt about the fact that Lead Form Extensions is a promising new solution for advertisers. But, much like any other ad extension, this too comes with its own set of limitations:
One of the major limitations of lead form extensions is that it will just appear in search campaigns. 
Another factor that comes across as a limitation for lead form extensions is that it can only be seen on mobile and tablet devices.
Thirdly, a lead form extension can only be created at the campaign level. This means that an advertiser will be unable to apply for a lead form extension at the ad group or account level.
Apart from this, there are a number of industries including healthcare that will be disabled to use lead form extensions for the purpose of collecting personal information. For an entire list of limitations concerning lead form extensions, you may

read more here

. 
Lastly, how you use the contact information of users collected via lead form extensions need to be in accordance with your organization's privacy policy along with a number of other factors (such as data collection policy of Google, local legal requirements of your customers etc). 
Conclusions
On the whole, it's quite evident that Google's latest lead form extension provides advertisers with a ground-breaking solution to improve and increase their mobile conversions. It's high time that more and more advertisers seek benefit from this new ad extension by Google and regulate their mobile bids accordingly for added advantages. 
In Hong Kong the mobile penetration is very high, 6.2M of people are active mobile internet users*. Being able to increase the results coming from the lead generation campaigns targeting these devices is imperative. This is a trend which will only grow, users will spend more and more time online using their phones, tablets and iPads.   
As a digital marketing agency in Hong Kong specialized in lead generation we always adopt the most advanced strategies to increase the number of new potential clients for the companies which work with us. We strongly believe that the lead form extensions are a game changer when it comes to boost the performance of Google Ads campaigns. 
If you are not sure on how to use these new extensions to achieve the best results, contact us for a free consultation. 
*Source: "Digital in 2020 in Hong Kong", We Are Social and Hootsuite Report.