GOOGLE ADS TRENDS YOU SHOULD FOCUS  ON IN 2021
Introduction
There is hardly any doubt about the fact that achieving the desired organic traffic for your website is not easy. From a highly competitive keyword space, paid social media to voice search; SEO is facing a huge blow.
In order to get more leads and buyers, you'll be required to invest in some pay-per-click (PPC) advertising. With a massive 63,000 searches done per second, Google is your ultimate destination. As a matter of fact:
·   Google holds 90.46% share in the world's search engine market.
·   15% of all searches on Google are done for the first time.
·   The market value of Google is $739 billion.
·   A regular person uses Google to make about 3-4 searches on a daily basis.
The fact that Google is making rapid upgrades to its products causes issues to the average marketers who can't fully use the potential of their advertising tools. This is exactly why we have summed up the top six Google Ads trends for 2021 to assist you come up with the perfect marketing plan for your venture this year.
Let's take a detailed look at these trends that are going to stay in 2021.
Trend #1: Google Ads Smart Bidding
From quite some time now, Google has put in a lot of stake in artificial intelligence (AI), and Smart Bidding is one of the outcomes of it. Google defines it as:
'Smart Bidding is a subset of automated bid strategies that use machine learning to optimize for conversions or conversion value in each and every auction – a feature known as 'auction-time bidding'.
In simple terms, it helps doing away with the bidding guessing game for Google ads. The AI system set up by Google automatically optimizes conversions in auctions with the help of machine learning. All you need to do is to let Google know your advertising objectives and the rest will be taken care of by Smart Bidding, keeping within your budgetary restrictions.
Smart Bidding helps in multiple PPC goals, such as:
·   Target CPA: lead generation and building new clientele for your aspiring cost per acquisition.
·   Target ROAS: achieve the best possible ROI on your ad spend.
·   Maximize Conversions: take your conversion rate to new heights.
Smart Bidding makes it easy for you to utilize multiple signals to optimize your bid, many of which are exclusive in the system and not provided for when you are bidding manually. Check out some of the signals you can pick from:
·   Location intent: where a user wishes to go other than their current location. For instance, when a user is doing research to travel.
·   Weekday and time of day: any local business can target clients at specific hours of the day with valuable info as well as exciting offers.
·   Remarketing list: ad optimization is possible on the basis of the previous product interactions by users.
·   Ad characteristics: with more than one version of an ad, Google helps you pick and bid the ones that can potentially bring you more conversions.
·   Interface language: bids can also be changed to match the user's search language.
Machine learning makes it possible for Smart Bidding to take care of multiple signals at the same time and customize bid's to match the needs of different users. For instance, if there is a possibility that a user will click on your ad on the way home in a bus, Google will help place your bids for mobile ads around 5 to 6 pm on working days.
On the whole, Smart Bidding is full of wonderful opportunities for new advertisers or businesses that cannot spare much time in planning marketing campaigns on Google. The major limitation of Smart Bidding is not having control on which third-party sites your ads appear; as you have to select them all or none at all.

Trend #2: Google Discovery Ads
It was in the end of 2018 that Google first introduced Discover, its own mobile newsfeed. This newsfeed aims at providing with valuable content to users, whether or not they searched for it.
The content of Discover is set up like cards with topics to search for, including blog posts, video, news articles, recipes etc; all in sync with the interest of the user. It is not always that Discover gives you the freshest content, as its ultimate goal is to provide content that is relevant to each user. You can always expect old dated content featured on it.
You can get Google Discover in the Google mobile app as well as at Google.com on a mobile browser. It gives you control over the feed, offering a more personalized user experience.
Recently Google also came up with Discovery Ads that are local ads which pop up in different Google feed scenes. You can have an in depth overview of Discovery Campaigns in our previous post.
Much like Display Ads and YouTube ads, Discovery Ads need to be visually appealing as well as mobile-friendly so as to engage the users in feed with a native touch. It is with the help of machine learning that Google enables optimum ad placements. Factors such as search history and feed engagement play a huge role in making possible for these ads to reach the target audience.
 Similar to Facebook's Carousel Ads, Discovery Ads also allow you to display multiple images.
Google's latest Discovery Ads not only grant the marketers the opportunity to reach their target consumers in the Discover feed, but also in both – YouTube home feed and Gmail.
Trend #3: Google Gallery Ads
The beta version of Gallery Ads was launched by Google in the summer of 2019. Quite like the Carousel Ads of Facebook, Google Gallery Ads provide images that can be scrolled down by mobile users to seek more information about a product, service or brand, focusing on its visual aspect.
'As per recent reports, it is seen that ad groups consisting of one or more Gallery Ads are likely to have 25% increased interactions.'
Gallery Ads are projected at the top of search results in mobile, featuring about 4 to 8 images. The images in each Gallery Ad contain their own text and a still headline and URL. Each time a user clicks an image or swipes it the advertiser is supposed to pay.
Despite the fact that Gallery Ads do not have a lot of applications to offer for B2B or service-based brands, one can always make the most of these ads, especially when your business can do much more with ads that are rich in visual appeal.
The fact that Google is constantly pushing away from search ads that are only text-based suggests that businesses are likely to be flooded with platforms to advertise their products and services in a way that is more engaging for their clients and profitable to their organization.

Trend #4: Expanded Audience Segments
Earlier, we touched the subject of audience signals, and expanding them is something that Google is investing in a lot, both in terms of time and resources. Offering businesses with various platforms to increase engagement not only helps the business owners, but also the users.
In October 2019, Google announced two expanded audience segments:
·   Affinity Audiences:  these audiences are formed on the basis of likes and  browsing habits of the users. A few examples of Affinity Audiences include beauty or fashion shoppers, cloud services power users etc.
·   In-market Audiences: the pool of users belonging to these audiences is often studying or making comparative analyses of products and services. Google has also introduced innovative seasonal features for such users so that advertisers can target them in a timely fashion manner.
Check out these new target audiences in the Ads UI:
There is no doubt about the fact that none of these signals is entirely new since these have been spread out to make it easy for businesses to target their potential clientele at just the right time. You always have an option to level in these audiences along with your other factors while setting up a new marketing plan.
Trend #5: Integrated Ad Campaigns with Google Lens
Google Lens is Google's visual search engine, which identifies objects and landmarks via a native app. Google Lens is integrated with Google Photos. It is also integrated with the Google app and Google Assistant in selected Android phones. Here is what you can do after taking a picture of the following things:
·   Apparel and home goods: find related products and places from where you can purchase them.
·   Barcodes: get information about the product and where you can find it.
·   Business card: save the contact's phone number, address etc.
·   Book: check out reviews or find a summary.
·   Event flyer or billboard: mark the event in your calendar.
·   Landmark or building: find out hours of operation, historical or interesting facts etc.
·   Painting in a museum: get information about the painting and artist.
·   Plant or animal: find out information about the species or breed.
At the moment, Google Lens results do not feature ads, but Google is certainly up to something interesting in terms of integrated ad campaigns.
There are a couple of case studies that are worth to mention for the usage of Google Lens.
Case Study #1: Google Lens and "Stranger Things"
Netflix teamed up with Google Lens for the promotions of the season three of Stranger Things in order to offer an exclusive augmented reality (AR) experience.
This allowed people who bought a print version of The New York Times to use Google Lens and click a picture of an ad for a fictional mall in the show (Starcourt Mall) and bring it to life for that particular day.
The AR experience had a teaser from the upside down as well as an ad for the new season of the show. It was a new kind of promotion and opened up many such avenues for advertisers who are looking to go beyond the ordinary advertising experience.
Case Study #2: Google Lens and "Pokemon Sword and Shield"
For the promotions of the release of the game Pokemon Sword and Shield in Japan, the Pokemon Company teamed up with Google Lens in order to create an augmented reality experience including the box art for the game.
With the help of Google Lens, users could bring the box art to life.
The promotion not only garnered a massive interest in the game but also went viral on social media.
There is a huge possibility that Google will introduce many such new ways for businesses to use Google Lens for advertising, both integrated with augmented reality and within the app. It's definitely an amazing option for businesses that wish to try something new and exciting.
Trend #6: Google Ads and Voice Search
With a constant rise in the number of users buying smart speakers and opt for voice search, text-based search is going to continue to decline. And this will put advertisers in some serious trouble. Take a look at these stats:
·   By 2022, 55% of all American homes will have a smart speaker.
·   72% of users who already have smart speakers agree to the fact that voice search has become a part of their day to day routine.
·   From $2 billion at present, voice shopping is expected to rise to $40 billion by 2022.
·   2 out of 5 adults happen to make use of voice search on a daily basis.
At present, screen-based voice searches, like using Google voice search on a phone or laptop will show ads, but smart speakers such as Amazon Alexa and Google Home don't do that. That's not great news.
But, the good news is that this will surely change as well. As a matter of fact, Google has started testing ads on Google Home. The more users shift from text-based search, Google will definitely come up with new ways to monetize voice search in the best way possible.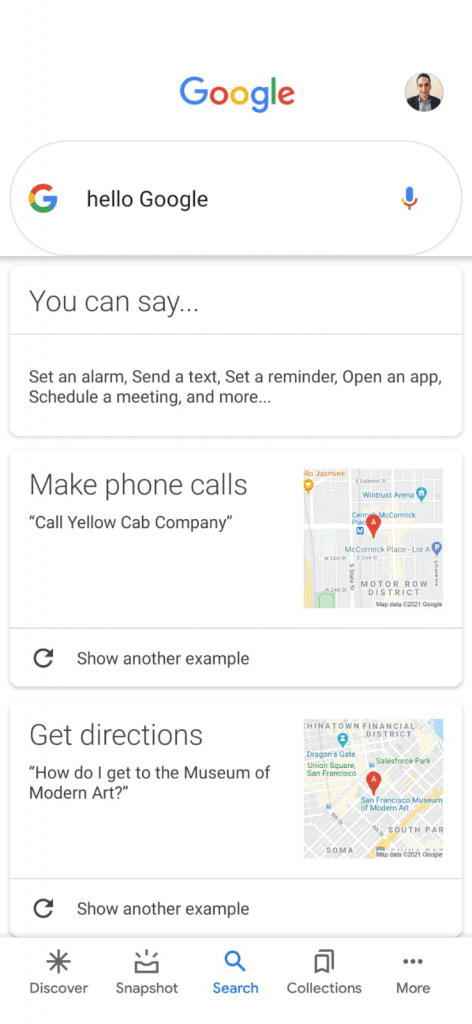 Conclusion
As a leading digital marketing agency in Hong Kong we help our clients to understand and use the new Google Ads trends to improve their online marketing results and catch new market opportunities.
Whether you are unsure if to use the new Gallery Ads, opt for a Discovery Campaign or how to expand your brand message to the right audiences  we are here to help and provide the most effective solutions for your online success.
If you want to know how your business can grow through these new advertising options  let's have a chat!